Henri Lloyd
Have you ever found yourself wondering, 'What can I possibly wear in Autumn or whilst sailing that'll keep me warm and looking amazing?'.
I have! Not that I go sailing, it's on my to-do list after I graduate from law school, but the first part of the question I can relate to.
I find, usually warm clothing can seldom be synonymous with chic and stylish unless of course you're a gentleman, who enjoys the rugged charm of a trench with the amazing warmth of a knit. Yes, I'm describing the ever loved prep look.
I also feel as if, since Australia isn't cold - in comparison to say, Europe. Our winter wear can be more or less, all or nothing?
People walk around in stockings or tights, and rug up over it in crispy layers which I find is interesting but, not always amazingly chic.
If you get my drift?
Either way, the lovely people from Henri Lloyd, emailed me with a sneak peek to their Autumn/Winter collection and I must admit, I do love the Green Charlotte Parka from the women's collection. I'm not even kidding. I used the words parka and love in the same sentence.
Here's what the Social Media Manager had to say about the line and the designer himself
AW/10 – Womenswear
The key trends for Henri Lloyd's AW10 women's wear collection echo those evident in the men's wear collection – layering, protection, country and nautical influences. Recognising today's atmosphere of social, economic and environmental uncertainty Henri Lloyd has created a collection which offers security through a brand name we can trust and depend on, which is brought up to date with technical details and modern fabrics to empower and protect.
Protection and layering have become fashionable yet remain functional with today's continuing climate flux. The padded pod jacket is an example of a piece designed to provide a strong fashion statement while sheltering the wearer against the elements. The gloss finish of the jacket contrast with the rich textures of the layered knitwear and baby cord trousers, while checked shirts and hand knitted wool blends create contrasts of colour, texture and weight elsewhere in the collection.
The 'true to the sea' heritage of Henri Lloyd is key to AW10 with cruise and resort inspired styling. The nautical look remains an important catwalk trend for women in AW10 and Henri Lloyd is no exception. High waisted tailored trousers, antique gold buttons and traditional marine details run through the collection, and the look is brought up to date by the use of luxury fabrics such as cashmere and further attention to detail with diamond quilt stitch linings.
Henri Lloyd women's wear is as comfortable on land as it is out on the waves and what better way to showcase this than a classic 'Made in England' waxed jacket. Using traditional methods and British made fabrics this jacket is brought right into 2010 with its modern finish and technical touches. For a more relaxed feel, merino knits are longer and a toggled parka provides warmth and comfort, all worn with woollen leggings for a layered, easy to wear look.
As in the men's wear collection, the hybrid of inner wear worn as outer wear is something the Henri Lloyd design team have been focussing on. Modern shapes such as capes and snoods, pod hoods and pouches are emerging as strong new pieces for the fashion aware. Full denim pleat skirts, bat wing tops and roll necks worn as layers play with volume, bringing added interest to silhouettes while echoing important seasonal trends.
For AW10 Henri Lloyd have created a women's wear collection that is traditional yet modern, functional yet fashionable, stylish yet relaxed. A collection that can be worn at sea or on land and that is just as at home in the countryside as in the city. While taking comfort from the brands heritage and remaining true to its roots, for AW10, the Henri Lloyd women's wear collection steers to the future.
Henri Lloyd Background
Henri-Lloyd, a British Sailing Heritage brand since 1963, founded by Henri Strzelecki MBE has established over five decades a formidable global reputation for innovative design and quality in sailing clothing. From the early days working from a converted chapel in Manchester, England the company pioneered technologies such as; the wonder material of the 1960's Bri-Nylon, the hand taping of seams for waterproof integrity and strength, the first integral safety harness, use of Velcro in clothing and with the Swiss based company Riri® the worlds first non-corrosive zips. The early pioneers of circumnavigation such as Sir Francis Chichester, Sir Robin Knox-Johnson and Sir Ranulph Feines were all adopters of this revolutionary gear.
In the early 1980's the Henri Lloyd world changed forever when the über cool Milanese scooter society the "Paninari" adopted the Henri-Lloyd Consort jacket as part of their uniform, the very jacket that Sir Francis Chichester had worn on his record breaking circumnavigation of the world.
Today, Henri-Lloyd is the choice of modern champions such as Ben Ainslie CBE, Shirley Roberson OBE, Team Origin – British America's Cup Team, Round The World Yacht Race crews, as well as Brawn GP, MERCEDES GP PETRONAS and many current music bands, sports and media personalities.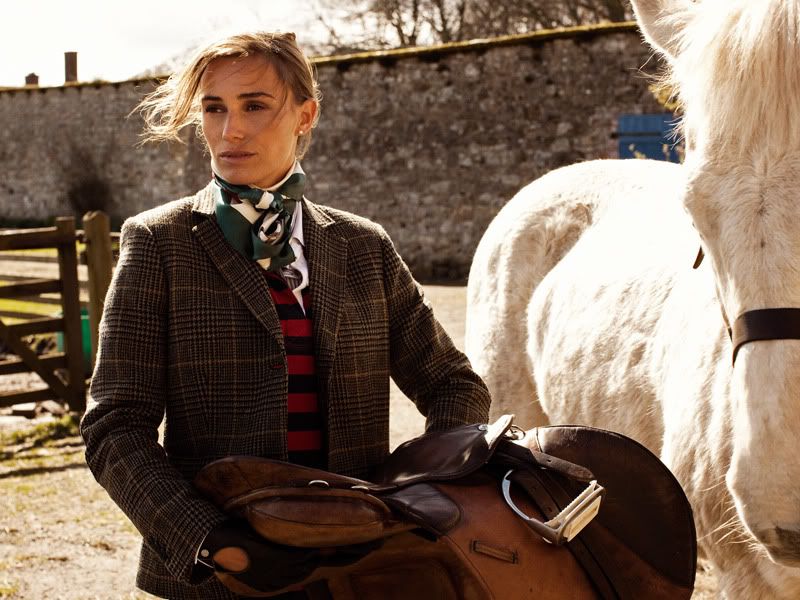 Source: Henri Lloyd.
So I'd like you all to do two things.
1. Go check out
Henri Lloyd
's website and see their denim line as well as their female resort collection AND the male collection. I know I mainly cater for womenswear but come on guys... I have posted about mens' shows too.
2. Tell me what you think (if you're in the Northern Hemisphere) of Parka's for winter.