NYC Fashion Week: Rodarte = Amazing?
Personally, I've flicked through and do not find it too appealing, however, that is if I took the look directly off the runway. If I were to style it or have Ms Alt do a spread (which I'm sure she will, naturally) I'll change my mind. I liked the theme but felt it reminded me too much of
Poison Ivy
from Batman and Robin. Which is completely unrelated in textures and colours, but for some reason I had her pop in my head.
Was it just me? Or did anyone else find that the arm tattoo art overshadowed the pieces? Central to the theme, blah blah blah, I know but I found I couldn't appreciate the dress/outfits in their entirety because there was just SO much going on. The draping, the mixing of what looks like leather and softer fabrics, the SHOES (which I
LOVE
), the dry ice poison fog and then there's these odd fake tattoos the models are sporting which match their gothic make-up. I felt like I was watching some vampire movie and couldn't find out what it was actually about because nothing but costumes created the plot.
Mind you, I heard this was meant to be amazonian, but there's hardly anything amazonian about it, perhaps the tattoo designs and that's about it.
See?
Don't get me wrong, I don't hate it. I just feel the collection could've been presented much better. OR this could've been a more amazing theme for a haute couture show, if they ever participated in one.
Here are my picks and a side note.
Did you know: Kim Gordon from Sonic Youth, is a BIG Rodarte fan? Go figure.


The SHOES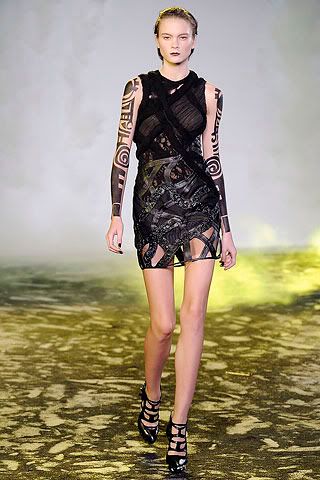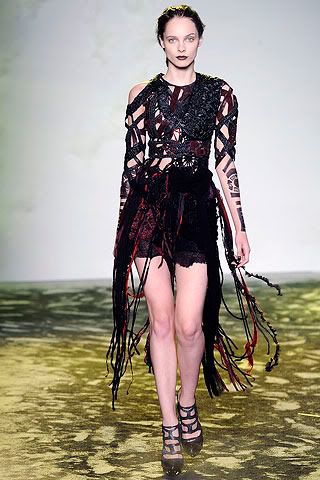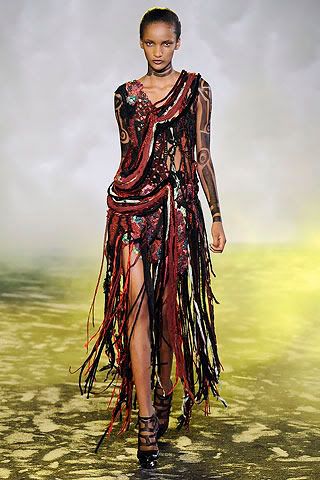 Source: Style.com, Fashionologie