Isabel Marant.
I LOVE ISABEL MARANT
Interview below as conducted by Harper's Bazaar Australia. Image above from Russh Australia Jul/Aug 09.Who is your muse or style icon?
"I don'teally have a muse, but there are a lot of women I admire for their stylish way of being, such as Frida Kahlo, Diana Vreeland and Simone de Beauvoir. They were all very confident in themselves."
What captures your attention when it comes to aesthetics?
"I am always attracted to a mix of androgynous, sporty and feminine styles."
Why do you think your label has such a cult following?
"My collections remain very personal, even if there is a certain evolution within my design. I'm trying to cultivate the cosy, elegant attitude that is always mine."
What are your favourite pieces from the current collection?
"I love the printed quilted skirts and jackets and all the frill dresses and skirts."
What do you think makes the Parisian way of dressing unique?
"I think what makes it so special is its certain negligible elegance. Parisian girls don't seem to pay much attention to their look, but they actually do … a lot."
What typifies that nonchalant Parisian cool for you?
"I think that it's a lot about mixing things together, to avoid total looks. I always prefer the girl who feels herself in her clothes than a girl who tries to follow trends."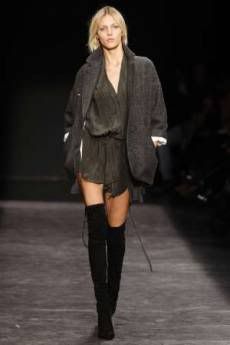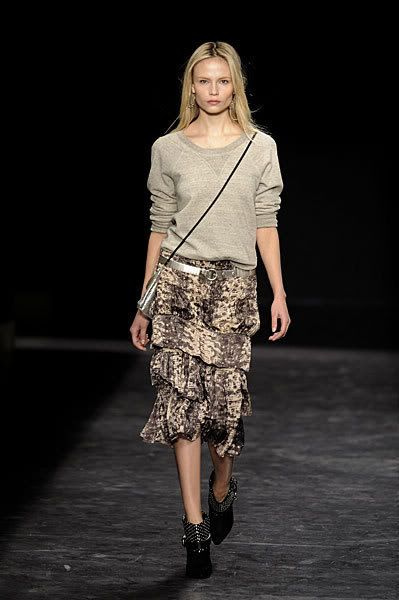 What is your favourite source of inspiration?
"It can come from a gesture from somebody in the street, a book, the news on television. In the beginning I was inspired by my travels and foreign cultures, but today I am inspired by more subtle things."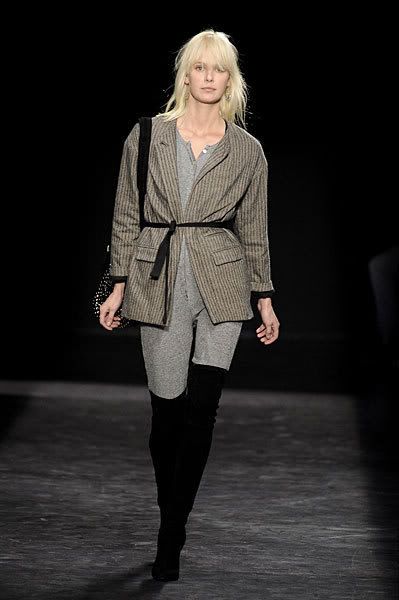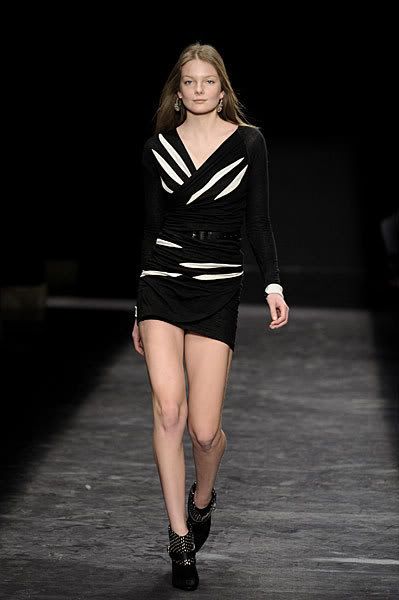 Despite the label's success, your prices have remained consistent. Is that important to you?
"It's very important for me to keep my collections affordable. After all, I'm designing for everyday life."
What's next for the brand?
"We are planning to open shops in LA and New York for next winter's collection."
Interview by: Katrina Israel
If that wasn't/isn't enough reasoning to justify my love for Isabel, then Russh's feature may infact do the trick.
Click on the images for the larger version.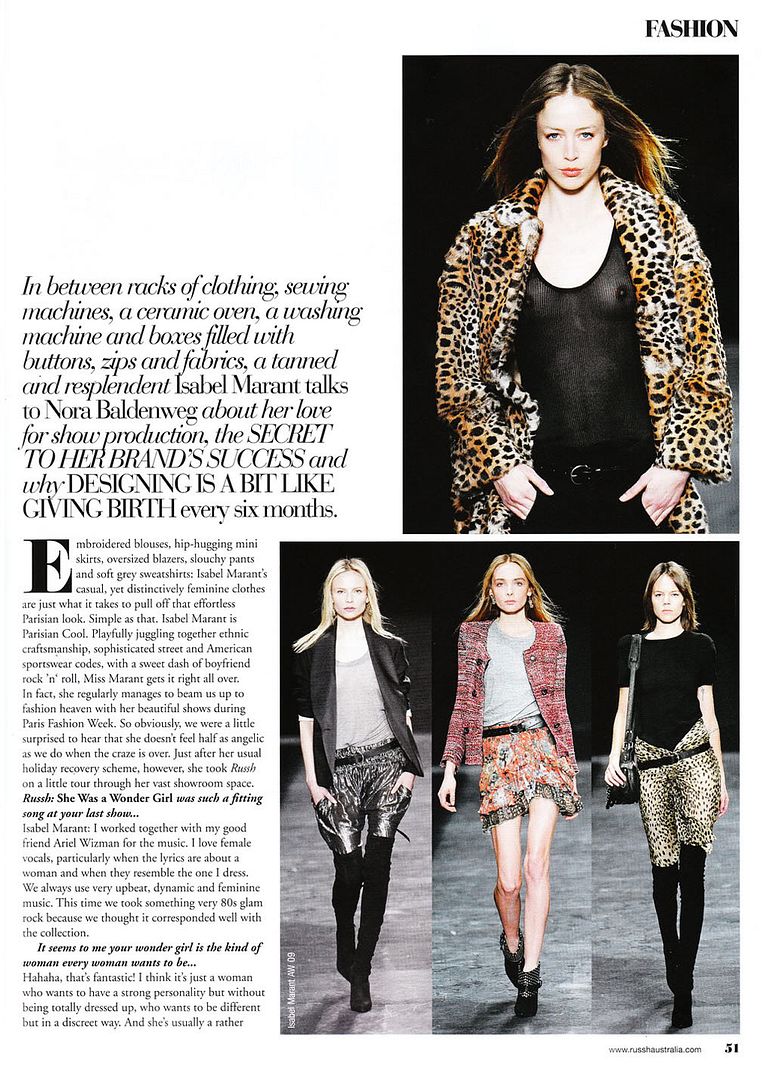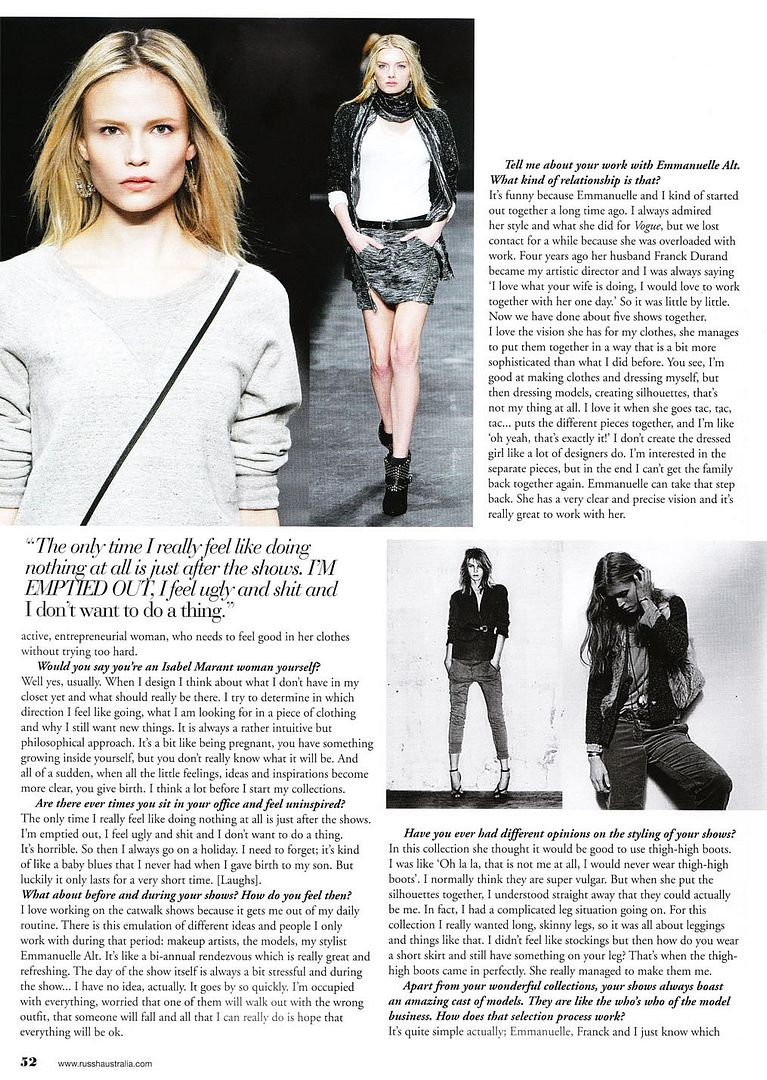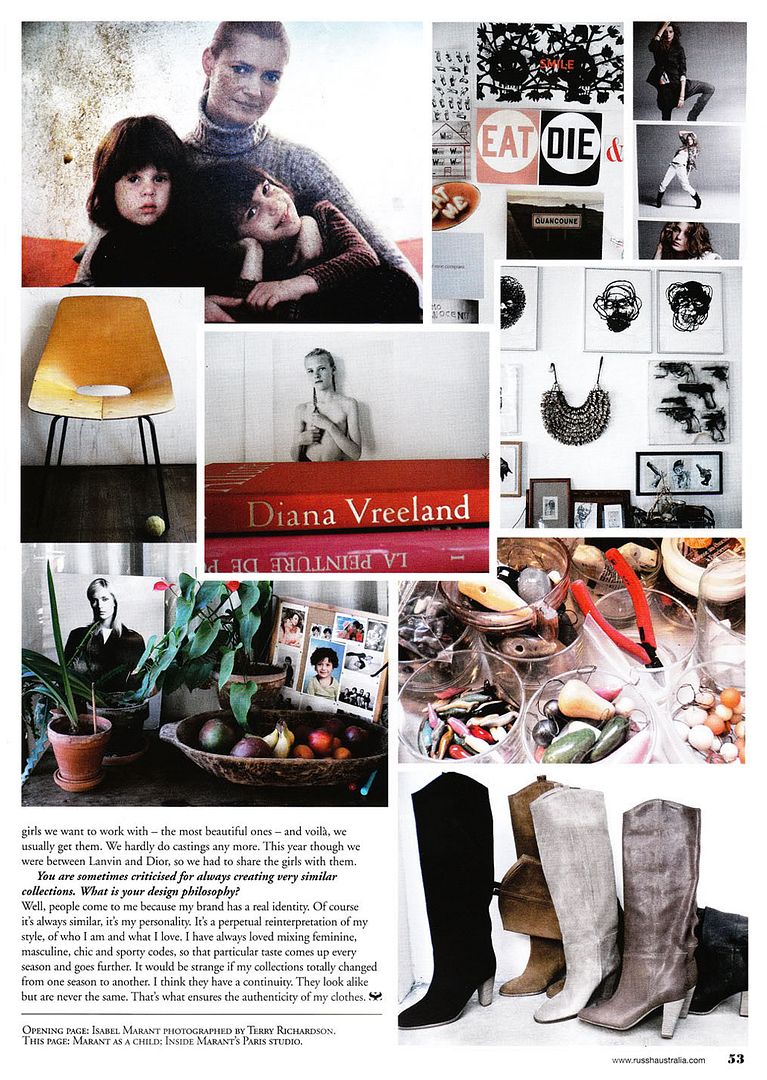 Sources:
TFS Isabel Marant F/W 09
,
TFS source of Russh Scans
,
Harper's Bazaar Australia
, Russh Australia July/Aug 09,