These boots were made for walking not hawking.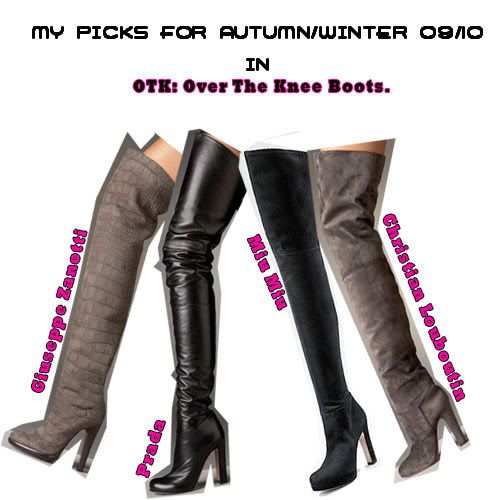 The long awaited shoe post is here, well boots post, actually.
I took the time to very carefully pick out from the now vast variety of over the knee boots that have come to grace our autumn/winters (for my fellow northern hemispheric dwellers I know you're relishing summer but winter is upon you too).
I had a very shocking wake up call last Friday when I was out with some friends at Ivy here in Sydney; A very tasteless use of the over-the-knee boot left me picking up my jaw from the sidewalk as I entered the establishment.
A 20-something rather blonde, attractive girl who had a very nice provocative outfit, (if you're clubbing that's what you are more than likely to wear in order to draw attention to yourself) - however, she had completely blind-sighted anyone from seeing her clothes because the night-lights reflected off her tacky VINYL stripper boots!
I screamed!! Well not really, I wanted to though. I wanted to yell and run after her and rip them off her at once and hand her over some ballet flats. I felt like grabbing her by the shoulders and shaking some fashion sense into her but alas, I merely 'tisked' quietly and walked on by, disappointed.
How is it, that such a horrible mistake can occur? Surely her friends would've said something or rather, locked the door before letting her head out into the world. Then it dawned on me, no, she probably got told they looked
amazing
because OTK boots are
SO
in right now.
While this is true, I do believe that Gucci, Prada, Giuseppe and Louboutin had no intention of seeing the new trend turn into trash.
Therefore I've made a nice little 'My Picks' for this trend in hope to feel like I did advise this poor girl otherwise. This has also sparked up an idea to regularly post my take on trends - as in, my picks and revealing when a trend turns into trash.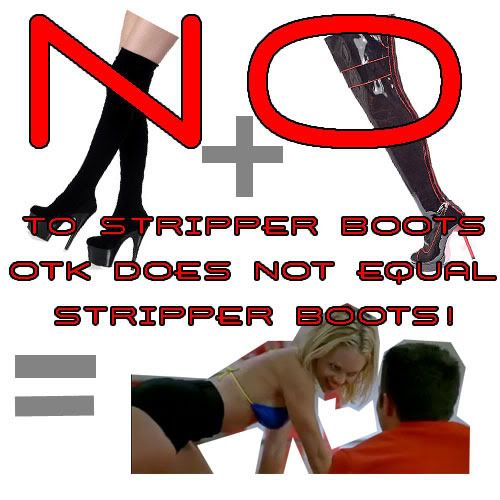 I also wanted to take the opportunity to share with you a lovely resourceful blog I was referred to by my baby sister, she's not really a baby, she's in her late teens.
FASHIONTOGRAPHY
Go now, this blogger has some amazing resources for fellow fashion lovers and bloggers!
Sources: Saks5th, Neiman Marcus,