The Curious Case of Benjamin Button.
Usually, I'm a skeptic when it comes to making classic novels into films. I fear the director's vision gets in the way of the author's purity. However, this movie is fantastic, in every sense of the word. No wonder, when I went to see it on Boxing Day, it was completely sold out, I managed to get in early but others were not so lucky. I imagine Eric Roth must be extremely happy as the money pours in and what can I say it's definitely deserved. Hard work should always be rewarded. Be warned, you'll cry, you'll laugh, and you'll be immersed in a beautiful masterpiece of an experience. To be able to wish and take away the hidden moral messages of the original author
F. Scott Fitzgerald.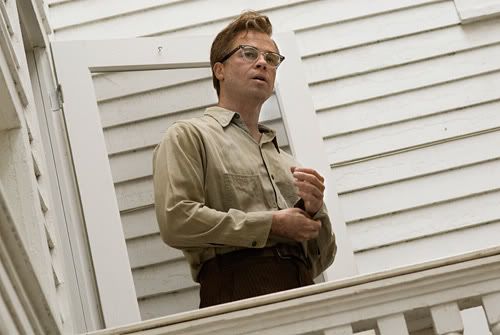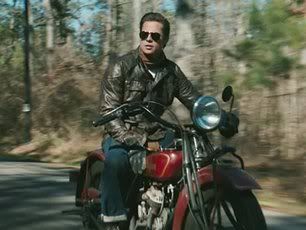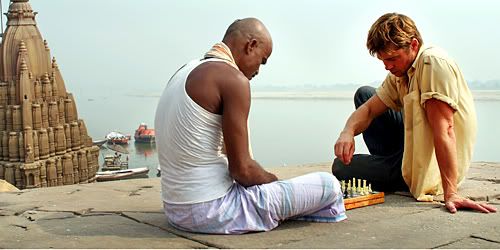 Cate Blanchett
plays a memorable portrayal of Daisy and looks more astonishing than ever. Her red haired character illuminates the screen only to be foreshadowed by her crystal blue eyes, the very blue that enchants Benjamin (
Brad Pitt
). Brad Pitt, normally known for his attempts to gain creditability as an actor because, in all honesty, for an attractive man it can be that much more difficult to prove themselves.
The question always remains of whether the acting was memorable and eloquent or whether the audience-actor attraction foreshadowed a merely satisfactory portrayal. Pitt, does do a good job in portraying convictions and love and conflicted resolves however it could've used that extra 'umph' as some call it.
The cinematography and the music is amazing and complimentary and the supporting cast members are worthy of mentions and applause. Including the amazing, Tilda Swinton (Elizabeth Abbott), embodying elegance and enchantment as she plays the wife of a British Spy who engages in an affair.
The tale has twists and turns, and the entire film is narrated by the lovely southern accented Pitt making it all the more engaging. Resonating some warmly grandfather story telling hour, similar to when Sir Anthony Hopkins narrates the silver screen. A fine job, well rounded and intricately pieced together.
It deserves Four Stilletos
Image Source: laist.com; popmatters.com; salon.com; cbcca.com; channel4.com; ropeofsilicon.com; latimes.com.