Summer.
Many apologies to those who have graciously stopped by and found no new updates, I've had an extremely business week and feel utterly guilty for not posting.
In the spirit of summer, this entry is *tadah* summer themed. Surprise, surprise.
I don't know if any many of you are preparing for summer, I imagine the majority must be preparing for winter, so I hope this adds a little heat to your frosty days ahead.
Let's specify shall we?
This entry is not 'dressing for your shape', it is not a 'how to look good for summer' and it most definitely is not a '10 things you need to know..'
It's purely my main inspirations for what I hope is a lovely 3 month break. Even though many of the avid fashion followers do work right through the summer. It's that sense of buffering between the end of the year and the beginning of the new year that has the southern hemispheric dwellers calling in sick.
My swimwear pick comes from Jets.
jets.com.au
I love their collections, ever since I saw their peacock theme a few years ago I fell in love and the textures they use assure no body parts go over board. Although this piece isn't the one I got my hands on, I do love it. A lot. My personal find was a one piece black corset styled classic design.
For heading out to the shore, I also recommend some good suncream/block. Especially for my fellow southern hemispheric dwellers, as we all know being 'that' much closer to the sun, means there's a higher chance of skin cancer and not to mention pre-mature aging. Now I'm an avid supporter of aging gracefully, however, I do not think being careless about your health is something to boast about.
Nivea.com
That being said, even during winter one should bother with sun care, however, I have to shamefully admit that once the sun goes away so does my sunblock.
Personally, I'm a big fan of the gladiator sandals, even since Chanel released the knee highs. I'm also loving some of the 60-70s vibe floral vibe that's hitting main stream stores. Not something I'm embracing for myself but still it's like we've been transported to Woodstock.
I couldn't help whilst on the road today feeling the reverberations of an old trip-hop song.
Although not much fashion, more lifestyle in this segment. I do promise (with the exceptions when things pick up for me) that anything that comes up inspiring my summer will come up under this post ;)
For now I'll sign off with this ad campaign I fell in love with awhile ago.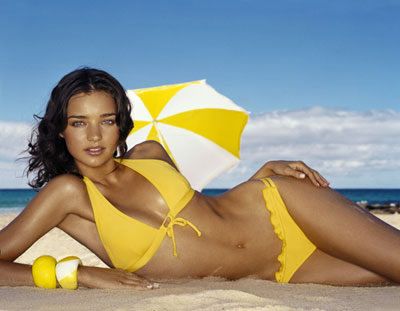 Miranda Kerr for Jets.


photobucket.com
Doesn't it feel like summer to you already?